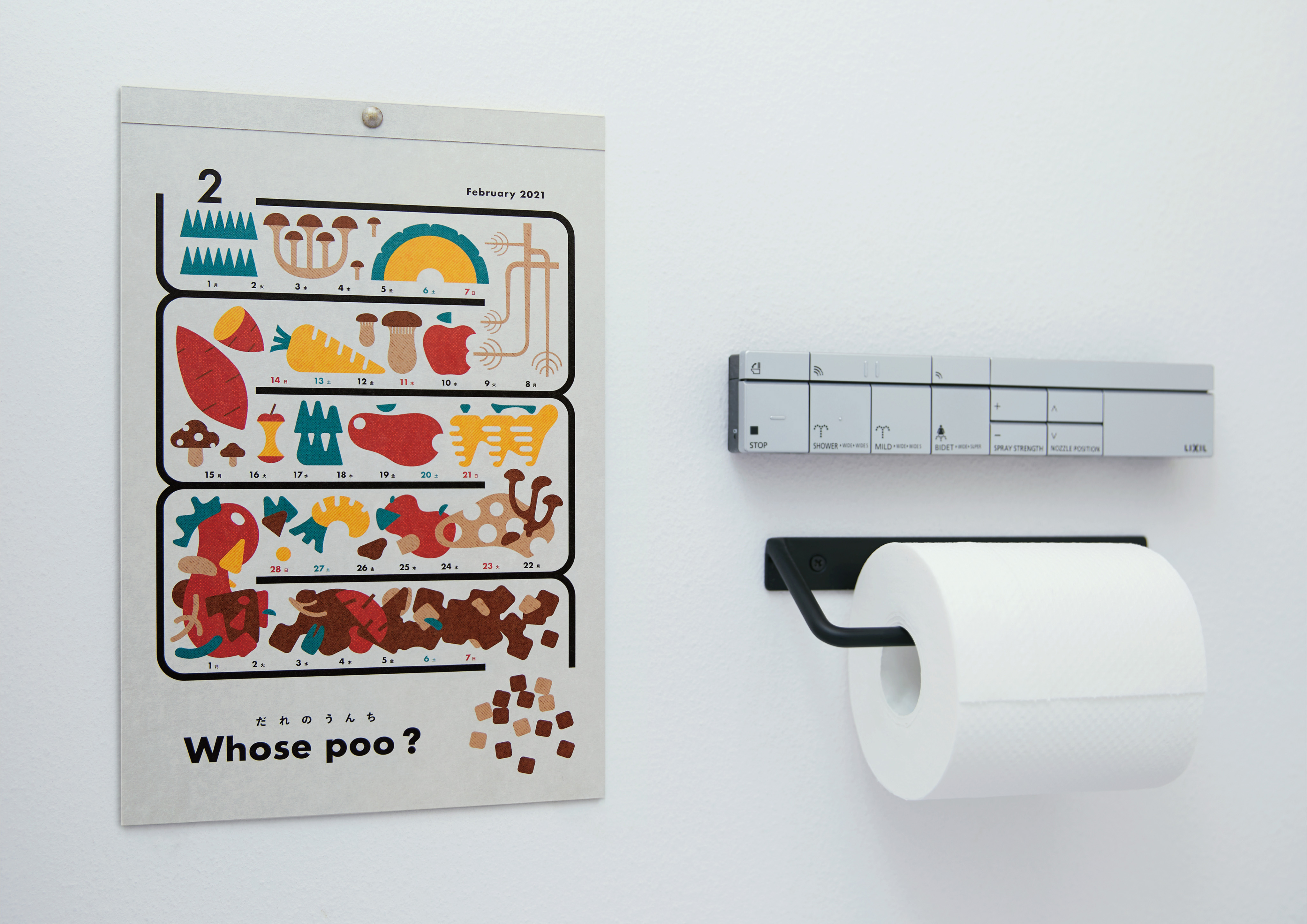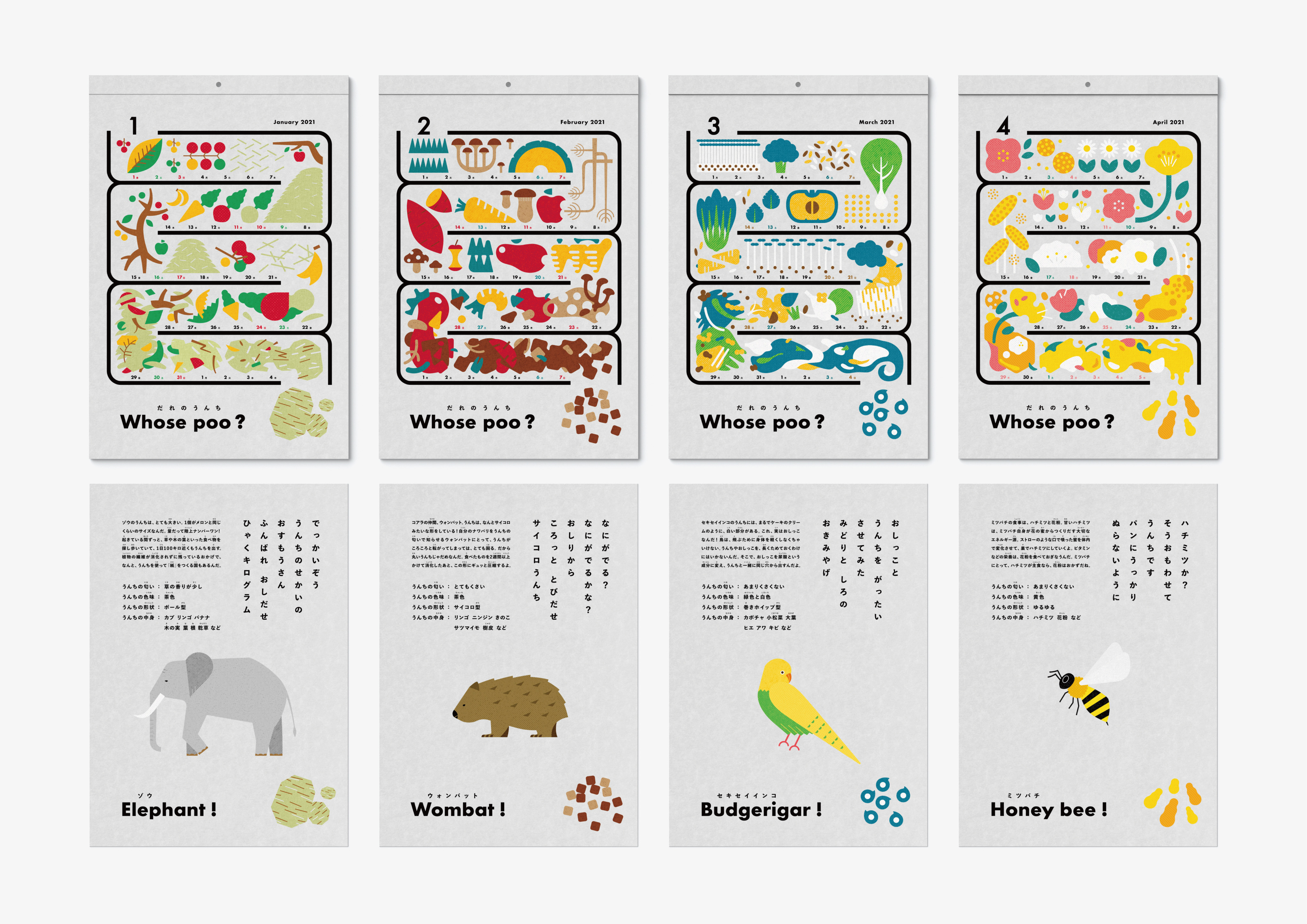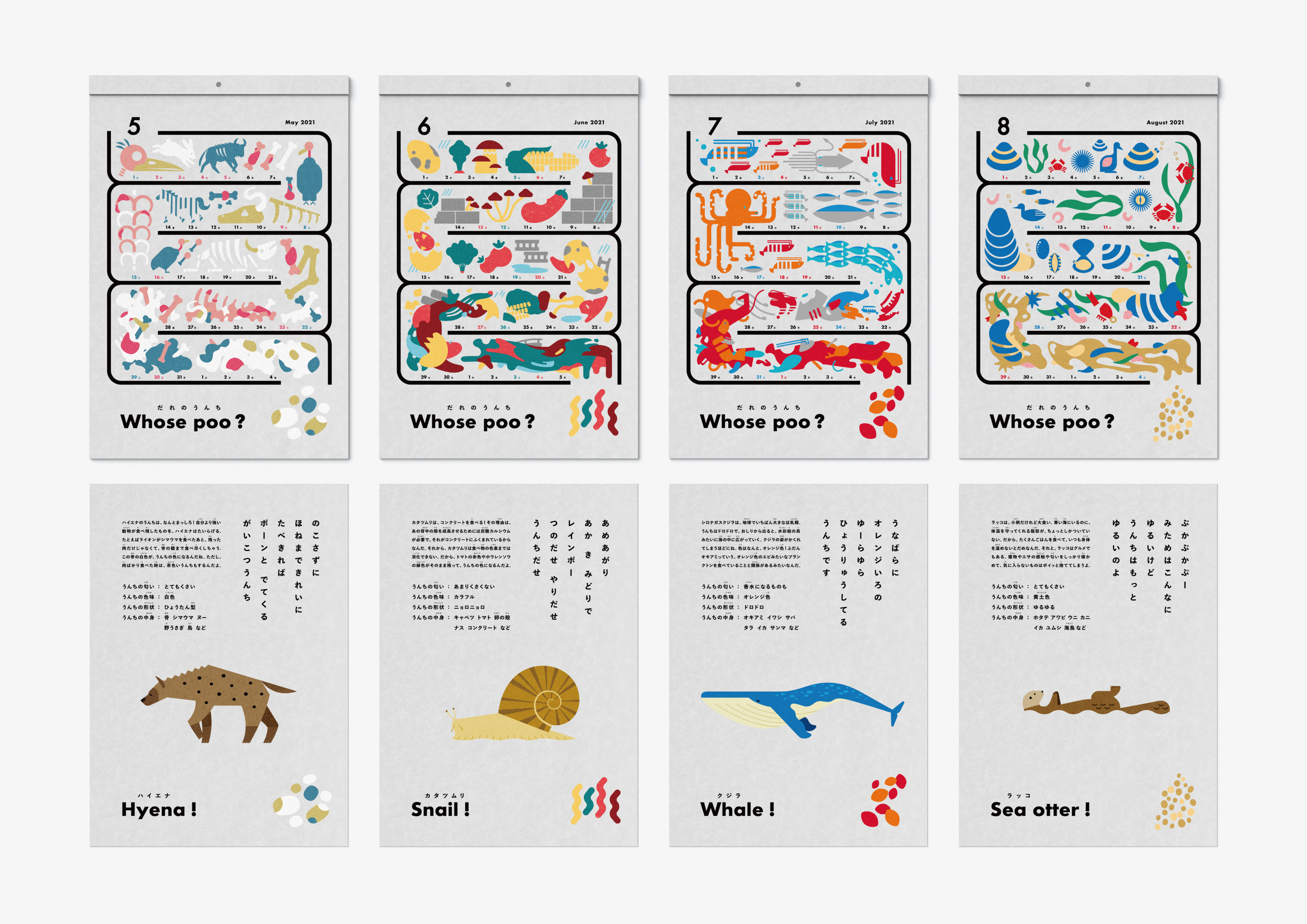 Calender
Whose Poo?
トイレ専用カレンダー


イオンファンタジーは自社の事業規定を エンターテイメントとエデュケーションを融合させた「エデュテイメント」企業へとアップデートした。そこで、家の中でも特にエンタメもエデュケーションも無いトイレという空間を、エデュテイメントにしてみせることで、イオンファンタジーの姿勢を 鮮烈に伝えられるのではないかと考えた。うんちを通して、動物の生態を学べるトイレ専用カレンダー「だれのうんち?」を制作。カレンダーの表面では、毎月の1日から末日までを 動物の腸に見立てることで、食べたものが消化される過程と、その特徴的なうんちを追いながら、うんちの主を想像することができる。毎月、「何を食べてるんだろう?」「どんな動物かな?」と、子どもが好奇心を抱ける仕掛けに。裏面では、動物の食生活や、うんちの色や形、匂いを楽しく解説し、1枚裏返すたびに、生物の知識を深めていける構成にした。

A FUN, EDUCATIONAL TOILET CALENDAR FOR KIDS


Aeon Fantasy decided to rebrand itself as an edutainment producer. They needed to reintroduce themselves to the world—and to their own employees—with a product that was both attention-grabbing and a clear demonstration of the company's outside-the-box approach to edutainment. With so many children stuck indoors due to the COVID-19 pandemic, Aeon Fantasy focused on edutainment for the home—and homed in on the toilet. By developing a product tailored to an unconventional place of study like the toilet, they believed they could make a strong first impression and cement their status as a company that can turn any place or situation into an edutainment opportunity. The result was the Whose Poo? calendar. Every month shows the digestive tract of a different animal, inside which various foods get digested over time until they plop out of the digestive tract. The back of each month reveals the animal, along with humorous descriptions of its eating habits and its poo.
Client : AEON FANTASY Co., Ltd
.
Creative Director : Yoshinaka Ono
Art Director : Yoshinaka Ono
Designer : Yoshinaka Ono
Designer : Yoh Kitanaka
Illustrator : Yoh Kitanaka
Copywriter : Yohei Ugaeri
Planner : Masaya Yomaru
Project Manager : Mihoko Nisii
Planning Director : Yuichiro Kojima
Assistant Planner : Shun Makabe
Producer : Naoki Yamaguchi